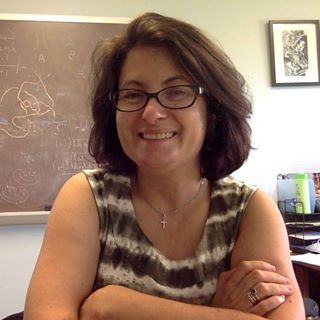 ---
Contact Information:
Effie Kalfagianni
Professor of Mathematics
Office: D-323 Wells Hall
Phone: (517) 353-6333
Fax: (517) 432-1562
E-mail:

kalfagia

(AT) math.msu.edu

<![if !supportLineBreakNewLine]>
<![endif]>
Professional Information
Editor, New York Journal of Math. Submission Instructions, here
Member, GEAR Network member

<![if !supportLineBreakNewLine]>
<![endif]>
Some Recent or Upcoming Conferences and trips/visits
Quantum Topology and Geometry, CIRM, Marseille, France, May 11-15, 2020
Max Planck Institute, Bonn, Germany, March-April 2020
Connections for Women: Quantum Symmetries, MSRI, Berkeley, CA, January 23--24, 2020
Mathematics Colloquium, Rutgers University, Newark, NJ, December 11, 2019
Geometry-Topology seminar, Rutgers University, New Brunswick, NJ, December 10, 2019
Topology/Geometry Seminar, CUNY, Graduate Center, New York, NY, December 3, 2019
Mathematics Colloquium, University of Virginia Charlotsville, VA, November 7, 2019
AMS Southeastern Sectional meeting, University of Florida, Gainesville, FL, November 2-3, 2019
Geometry-Topology seminar, UPenn, Philadelphia, PA, October 24, 2019
Institute for Advanced Study, Princeton, NJ, Fall 2019
New Developments in Quantum Topology, University of California, Berkeley, June 3-7, 2019
Quantum Topology and Hyperbolic Geometry, Da Nang, Vietnam, May 27-31, 2019
AMS Spring Eastern Sectional Meeting, University of Connecticut, Hartford, April 13-14, 2019.
Classical and Quantum 3-Manifold Topology, Monash University, Melbourne, Australia, December 17-21, 2018
Redbud Topology Conference, Oklahoma State University, April 27-29, 2018
6th Women in Mathematics Symposium 2018 ,Purdue University, April 7, 2018
Modular Forms and Quantum Knot Invariants, Banff International Research Station, CA, March 11-16, 2018.

<![if !supportLineBreakNewLine]>
<![endif]>
Conference and Seminar organization
Special Session on Geometry and Invariants of 3-mnaifolds, AMS Meeting, E. Lanisng, MI, March 14-15, 2015
Session on Algebraic and Geometric Topology, WIMS2015, March 7, Chicago, IL
Special Session on Geometric aspects of 3-manifold invariants, AMS Meeting, St. Louis, MO, October 18-20, 2013
BOOK: Interactions Between Hyperbolic Geometry, Quantum Topology and Number Theory
Contemporary Mathematics, 2011. Proceedings of the 2009 FRG-workshop
Special Session on Geometric Aspects of Link and 3-manifold Invariants Joint AMS Meeting, San Francisco, January 2010
Focused Research Group conferences
Geometry/Topology RTG lecture videos

<![if !supportLineBreakNewLine]>
<![endif]>
Some Topics courses
SPRING 2017: MATH 996: Topics: 3-manifolds: Information.
SPRING 2017: MATH 496: An elementary introduction to Knot Theory.
FALL 2015: MATH 996: Topics in Knot Theory : Information.
Some Pictures
with C. Cornwell; Summer 2009: Columbia University, NYC
with C. Balm, C. Cornwell, T. Jaeger;Summer 2010: Banach Center, Warsaw
with C. Cornwell and T. Jaeger; Spring 2011: Graduation, MSU
with C. Lee and J. Purcell; Spring 2012:, Moab Topology conference, UT
A. Giambrone; Spring 2014: Graduation, MSU
with C. Lee; Spring 2015: Graduation, MSU
S. Buton; Spring 2017: Graduation, MSU
---


This page has been accessed at least
timessince the counter was last reset.